SHAREfactory™ (PS4)
---
The SHAREfactory™ app offers easy video-editing tools and effects to let you share your greatest moments, your way. Effortlessly combine, personalize, and share your favorite game footage with your own commentary, a soundtrack (included tracks or your original music), themes, stickers, text, even a picture-in-picture video with the PlayStation®Camera. Once you've created your perfect cut, post it directly to your Facebook, YouTube, dailymotion or Twitter profiles with the touch of a button, or save it to a USB drive and upload your video to the world. SHAREfactory™ gives you t​he to​​ols to show everyone your most amazing moments, and make those moments even more spectacular.
You can find more information concerning general usage within the SHAREfactory™ Manual in the app's Livetile.
03-OCT-2017 - Updates to PS4 System Software 5.00 and YouTube Thumbnails FAQ
Table of Contents
---
PS4 System Functions​​​ of SHARE Button
---
Using SHAREfactory​​​
---
---
Frequently Asked Questions & Troubleshooting
---
PS4 System Software Changelog
---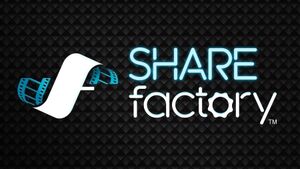 Dev​eloper
WWS Online Technology Group
Publisher
Sony Interactive Entertainment
Engine
FFMPEG
Platforms
PlayStation®4
Milestones

30-APR-2014 - 1.00 Initial Release​
06-JUN-2014 - 1.01 Patch Release
28-JUL-2014 - 1.02 Patch Release
10-OCT-2014 - 1.03 Patch Release
10-FEB-2015 - 1.04 Patch Release
10-FEB-2015 - DLC Themes​ Release
11-JUN-2015 - 1.05 Patch Release
17-JUL-2015 - 1.06 Patch Release
09-DEC-2015 - 1.07 Patch Release
08-APR-2016 - #SHAREfactoryBO3 Event (Event Mode)
01-JUN-2016 - 1.08 Patch Release
09-JUN-2016 - 1.09 Patch Release​
09-NOV-2016 - 2.00 Patch Release
09-MAR-2017 - 2.50 Patch Release
22-MAR-2017 - 2.51 Patch Release

Released DLC Themes
43
Genres

PS4 Console Application
Video Editor
Photo Editor
GIF Maker

Modes
1 Player
Distribution
Digital
Community content is available under
CC-BY-SA
unless otherwise noted.