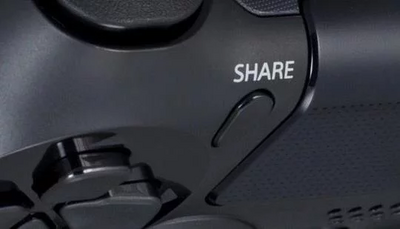 The SHARE button (

) is a new feature on PlayStation®4 that allows you to capture and save videos and screenshots of your games directly on the console, and then upload them to your favorite online service, or Copy to USB. Here you'll find a detailed explanation of the SHARE button, where we'll cover it's functions, uses, behaviors and restrictions so you'll have a complete understanding on how to best capture content on PlayStation®4.
Basic Functionality & TipsEdit
---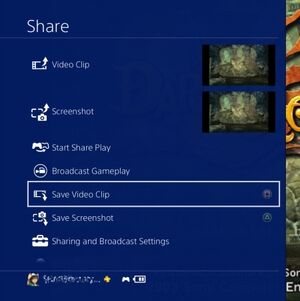 When

is pressed, the SHARE Menu overlay will display with a variety of options, including saving videos and screenshots, starting livestream Broadcasts, launching Share Play sessions, or settings menus for the SHARE button. Below we'll cover these functions.
Saving Video Clips and Screenshots

have some basic behaviors that Users should keep in mind when using and better understand how video clips and screenshots are captured on PS4.

Selecting opens the Share Menu. This allows the Player to select:

Other options include:

Upload Video Clip or Screenshot
Start Share Play
Broadcast gameplay
​Sharing & Broadcast Settings



Holding ​​ takes a quick screenshot of the active screen. This can also be used in the Dynamic Menu or Web Browser, allowing the User to capture most images into the Capture Gallery. This function is not permitted with video clips. App-specific restrictions also apply, such as Netflix.


Double-tappng ​​​​ creates a starting point for recording video. This allows Users to define exactly where they want the PS4 to begin recording the captured video clip before saving.

NOTE:​

In PS4 System Software Update 3.50, Players can now double-tap a second time to automatically save​​ the selected area into a video clip, without entering the Share Menu.​



Captured Scenes​Edit
---
Starting & Stopping Points for

​​​​ Video Clips are generally defined by when the Player LAST OPENED the Share Menu. The PS4 automatically begins recording video when a game is launched, and pauses when the Player opens the Dynamic Menu with the

button.

Once the User returns to the app, the recording resumes and will omit the time the user was in the Dynamic Menu. In cases where the user opens the Share Menu or closes the application, all previous video data is lost a​nd a new recording is started..​
NOTE: The exception to this rule is in cases where the PS4 displays the message "Gameplay recording paused because you entered a blocked scene." This creates a "cut" in any created video clip saved with

​​​​​​ and removes this portion from the clip without stopping the overall system recording.

EXAMPLES:
- Recording Video *Commentary in SHAREfactory
- Export in SHAREfactory
- Online EULAs/Logins with personal information
---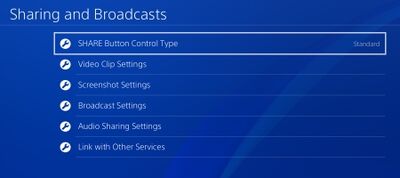 Sharing & Broadcast Settings are located in the Share Menu and is used to manage many User preferences on ​​button behavior.

You can also find this menu in:
Settings >

Sharing & Broadcast Settings​




SHARE Button Control TypeEdit
---
​SHARE Button Control Type allows players to choose between the default behaviors of the

button listed above in Basic Functionality & Tips, or Easy Screenshots mode, which changes the controls to the following:
Select ​​ > Take Screenshot
Hold ​​ > Display Share Menu
Video Clip SettingsEdit
---

Video Clip Settings affects the content included in the video clips saved.
Length of Video Clips

allows Players to define the maximum length of the Video Clips recorded. Options include

intervals from 30 seconds to 60 minutes.​





Dimensions

(PlayStation®4 Pro only) allows Players to set the resolution of recorded videos of PS4 Pro to

1080p or 720p​

​.​
Screenshot SettingsEdit
---

Screenshot Settings sets options for how Screenshots are saved.
Toggle auto-screenshots on Trophy unlocks



Image Format

sets​ screenshots to be saved in

JPEG or PNG​​





Dimensions

(​PlayStation®4 Pro only) allows users to set screenshots to save at

4K or 1080p



​
Broadcast SettingsEdit
---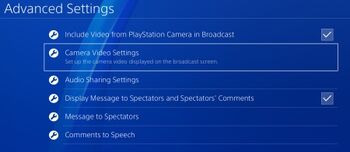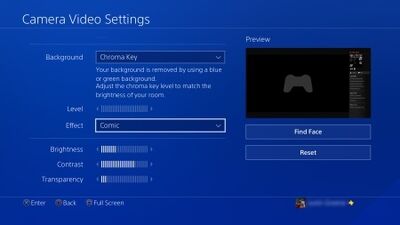 ​Broadcast Settings contains options for livestreaming your games to Linked Services.
NOTE:

Twitch is disabled for SHAREfactory™, as the app is primarily for video-editing and not a game itself, which are counter to Twitch's Terms of Use.


Audio Sharing SettingsEdit
---

Audio Sharing Settings allows you to add additional audio inputs into your

Video Clips when saved.​
NOTE:

Once enabled, any audio from these settings becomes permanently embedding in the video clips

and CANNOT be removed.

Furthermore, gameplay audio is automatically reduced in volume to account for the input of microphone audio.



Include Microphone Audio in Video Clips

embeds audio from the PlayStation Camera or a connected microphone into your saved video clips.



Include Microphone Audio in Broadcasts

outputs the audio from you active microphone into livestreams.



Share Party Audio

enables users to record Party Chat audio into their video clips. This option overrides the previous two options when you to share video clips and livestream to their respective services.

NOTE:

Each user of a Party must allow their voice to be recorded for this option to function as intended.




To allow your voice to be recorded into other users' videos:

Enter any Party Chat

Select Party Settings >

Allow Your Voice to be Shared​​



​
Link with Other ServicesEdit
---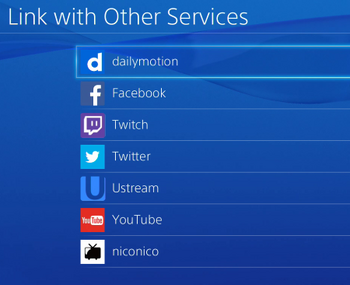 Link with Other Services contains services that the User can upload video clips and/or screenshots and livestreaming services.
Capture Gallery​Edit
---
The Capture Gallery is a folder that houses all saved videos and screenshots on your console. There are 2 versions on the Capture Gallery, with functions to keep in mind:


Capture Gallery in the Dynamic MenuEdit
---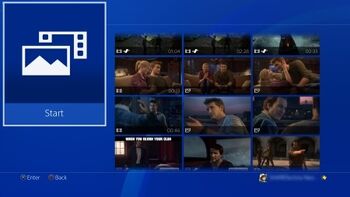 Capture Gallery in the Dynamic Menu

contains all video clips and screenshots captured or tagged with the currently active User Account. This menu allows players to:

View

Rename

Trim

Upload to Online Services

Copy to USB Storage Device





NOTE:

These clips should be the

ONLY

clips visible to the currently active player when entering SHAREfactory's

Choose Clips & Choose Screenshots

menus.


System Storage Management's Capture GalleryEdit
---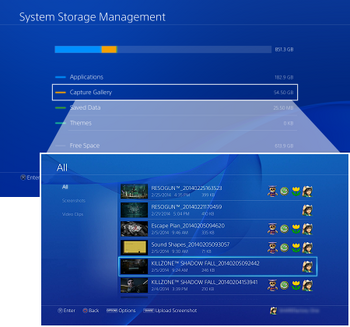 System Storage Management's Capture Gallery

displays all captured clips and screenshots from all Users on the PS4. When in this menu, Users can view the content created by other Users on the console, provided they meet any age restrictions applied to the content. Content can be deleted across all Users, however users cannot rename, trim or share content from this gallery.


This Capture Gallery is found in:
Settings >
System Storage Management >
Capture Gallery
Renaming & InformationEdit
---
Renaming & Information​
Players can rename their video clips and screenshots in Capture Gallery. This can help Players better manage large collections of clips and screenshots.


By default, Capture Gallery assets are named "APPNAME™_YYYYMMDDHHMMSS". These files should be found in a folder of the created app in the Capture Gallery.


​​To Rename or View Information about a Captured Video Clip or Screenshot:
Highlight any clip/screenshot in the Capture Gallery

Select > Information.

Open the text field for the content's name to Rename




This menu also displays file meta-data that contains extra information:
Dimensions

states the saved resolution of the video or screenshot.



Parental Controls

prevent Sub-Accounts from viewing content that exceed restrictions set by Master Accounts, based on the Rating of the game captured These videos are blocked both in the Capture Gallery and SHAREfactory when active.​​



Created With

displays players who created the video and can edit in SHAREfactory



Additional Information

shows extra details about the content, such as upload dates, Trophy info, PSVR, Events and more.



"Created With" TaggingEdit
---
"Created With" Tagging in Capture Gallery
When any content is created with

, all players actively logged onto the PS4 are "tagged" with ownership of that video or screenshot, up to 4. This functionality is NOT limited to DUALSHOCK®4 Controllers and can tag Players actively logged onto the console using any of the following devices:
DUALSHOCK®4
PS VITA
Connected Mobile Device
Wireless Headset
USB Microphone
USB Keyboard


"Created With" Tags can be viewed by highlighting any video clip or screenshot in the Capture Gallery, then selecting

> Information, in the "Created With" field. It is also can be noted when viewed in System Storage Management's Capture Gallery by the User Account's Avatar or Profile Picture.



Capture Gallery's Trim & CopyEdit
---
The Trim function in the Capture Gallery allows players to resize their videos to desired effects and free up HDD space.


To access Capture Gallery's Trim:
You can set the Start and End points of your trimmed clip with
/
​. You can also select

to set the end points, or save the current keyframe to the Capture Gallery with Save As Screenshot​.


Once happy with the area highlighted, select OK. You will then be given the option to Save as New Video Clip or Overwrite the original.
NOTE:

Any video currently saved to a SHAREfactory Project will be removed from the project when Overwritten or deleted.


WARNING: Be aware that the Capture Gallery Trim is a destructive edit. Unlike SHAREfactory Trim, any footage trimmed out of videos in the Capture Gallery will be lost.
What's New/Recent ActivitiesEdit
---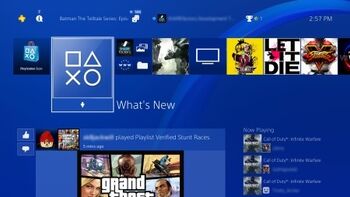 When you share a clip or screenshot or go live with a broadcast service, a Notification should appear in What's New​ and your Recent Activities in your Profile and associated app's LiveTiles.
NOTE:

For content published to an

Online Service

such as YouTube or Twitter, if the file is removed or deleted from these services, the asset will no longer display in Activity Feed posts.


Recent Activity posts are notices of what you and your friends are doing, sharing, or engaging in.


Profile Recent ActivitesEdit
---
Profile Recent Activities displays all Activities that the selected player has engaged in, both by themselves, and those they have been tagged in. This feed is found in a user's PSN Profile.


What's NewEdit
---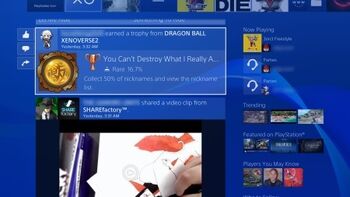 ​​What's New displays all activities of you, your friends, and Verified PSN Accounts you follow. This feed also contains PSN promotions and announcements such as PlayStation Store sales and events.


Game & App ActivitiesEdit
---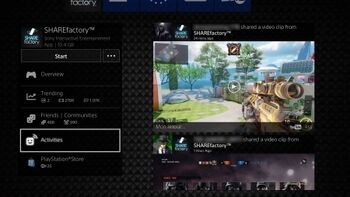 Game & App Activities display uploaded content of you and your friends that pertain to a specific game or app. This can be observed in the app's LiveTile.

​​
Trending Game & App ActivitiesEdit
---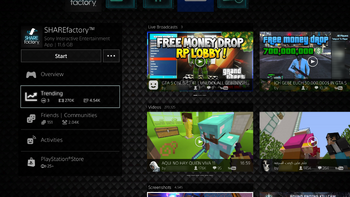 Trending Game & App Activities will display any public posts popular with the selected game or app's players. These can include public posts or broadcasts from yourself, friends, or other PSN players.



You can find more information on Activity Feed behaviors in Sharing Content & Activity Feed Management
Community content is available under
CC-BY-SA
unless otherwise noted.