---
​​Initial Release

(30-APR-2014)

​Included Themes

PS4
SHAREfac​tory
The Playroom
inFAMOUS Second Son Themes


---
​
Released

(06-JUN-2014)

​Included Themes

Soccer
Shooter
Battlefield: Hardline (unlocked with E32014 Announcement)



Music

​2 New Music Tracks

Beyond and Back
TmpstDgweedUNMSTRD1

​Waveform in Music Trim
​Fade In/Fade Out options



4 New Wipe Transitions

Wipe Right, Left, Up, Down



6 New Layouts

Aspect Ratios, Squares and Vignette


---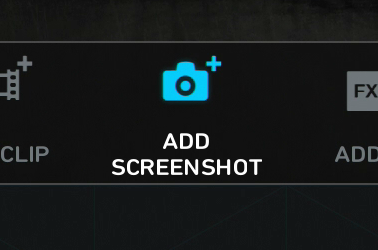 Released

(​28-JUL-2014)

​Included Themes

The Last of Us
Naughty Dog 30th (unlock 23-SEP-14)



Add Screenshots

Add Screenshots from the Capture Gallery into the main video timeline. Expandable from 1-second to 15-minutes with

Trim Clip





2 New Filters

2 New Wipe Transitions

Rectangle Explode
Implode



20 New Global Stickers




UI & UX Improvements
"Render Movie" renamed to "

Export to Gallery

"​


---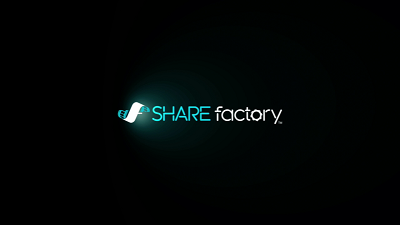 Released

(10-OCT-2014)

​Included Themes

Horror
The Evil Within (unlocked 14-OCT-2014)



Theme Art

(Choose Screenshots)

​New Filter

(Saturate)

​Filter Settings

(Saturate, Sepia, Posterize)

​Transition Volume

​Generate Thumbnail

in OPTIONS Menu

Stinger Theme Clip

auto-populated into New Projects
HD Mic support (record in stereo)


UI & UX Improvements
200% Volume

settings
Auto-Trim long clip when added into projects (10 secs)
"

By Selected

" sorting in Add menus
Projects with placeholder clips can now be exported
When using headphones,

Edit Commentary

will output project audio from Music and Video Tracks during recordings
Improved Audio playback (ongoing)
Support for

Other, Deleted Applications, and TV & Game

Capture Gallery categories in "

By Game

" sorting menus


---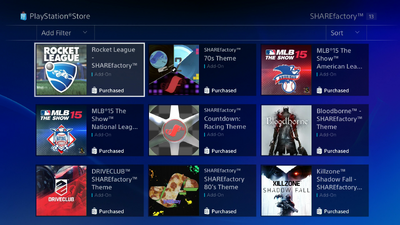 Released

(10-FEB-2015)

Premium/DLC Theme support

Destiny™
LittleBIGPlanet™3
Killzone™ Shadow Fall
Plants vs Zombies™ Garden Warfare
Pro Evolution Soccer 2015
SHAREfactory™ 80's


Support for multiple

Intro, Title, and Outro Clips

in Themes

Theme Music

(Destiny™, LittleBIGPlanet™3, PvZ, 80s)
PlayStation®Store links to New Themes



My Gallery

page to review and share previously exported videos​

Active PSN Avatar & Profile Picture

can now be used as

Stickers

View Help

in OPTIONS menu added for in-app User Manual
Extended Update History
Updated Share Dialog for 2.00 (YouTube)


---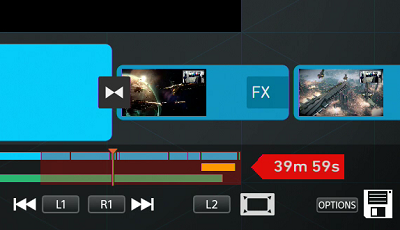 Released

(10-JUN-2015)

Increase Project limit to 40-minutes, Export limit to 30-minutes


​


2 New Music Tra​cks

from PSX 2014

Accelerate Instrumental
​Lucid Dream Remix
​


New Wind Filter

(w/Filter Settings)

3 New Stickers

(​Shuhei Yoshida)
​

UI & UX Improvements
Snip Clip

prevented from interacting with

Transitions

Screenshots

now distinguished with a gray border

Placeholder Clip

now distinguished with transparency and pink border
Updated Share Dialog for 2.00 (dailymotion)
Share / Share Later Export prompt
Larger Export Preview​​ window
Contextual menus highlight the last selected option
Updated pop-up prompts to auto-highlight "Cancel" by default
​

Commentary Audio and Video

Improvements
"Healing" functionality for 1.04 Corrupted Projects


---
Released

(14-JUL-2015)
v2.55+ PS4 firmware support

Fix for DLC ​Patching Loop


---
​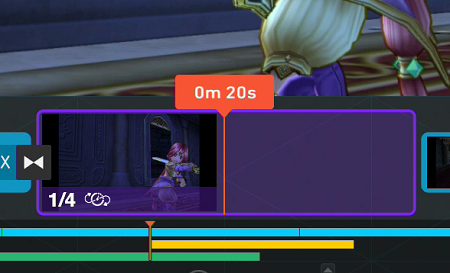 Released

(09-DEC-2015)​
​​

Time Bender

​ (Fast Forward/Slow Motion Playback control)

1/8 - 8x Playback Speed
Step vs Smooth Motion Interpolation



​Increased the ​

Video Clip​

limit to ​

50

​Increased the ​

Music Clip

limit to

​12





​Events Mode & Features

​



Revamped Edit FX UI

​Edit Overlays

(Stickers & Text FX)

Replaces SQUARE Next FX with UP/DOWN Navigation​

Layer Order​

for Sticker/Text Overlays

Drop Shadows

applied to all Overlays

Edit Layouts

menu

Edit Filters​

menu



Color Picker

Color slider options for Text Color, Colorize Filter, Opacity, various Transitions, etc.



Transition Settings

​Extended options for select Transitions



​

8 New Dissolve Transitions​

Blur Fade
HSB Fade (w/Transition Settings)
Desaturate Fade
Burn Fade (w/Transition Settings)
Block Fade (w/Transition Settings)
Fade To/From/Through Color (adds Transition Settings) (replaces Black)



5 New Wipe Transitions

Directional (w/Transition Settings)
Ellipse Implode/Explode (w/Transition Settings)
Rectangle Implode/Explode Reduxes (adds Transition Settings)



2 New Music Tra​cks

3 New Filters

Colorize (w/ Filter Settings)
Blur (w/ Filter Settings)
VHS (w/ Filter Settings)



9 New Stickers

​

3 Sf Logos
6 VHS controls


UI & UX Improvements
Loading bar now displays progress
Replaced CONFIRM/CANCEL menu options with X/CIRCLE buttons prompts
Improved UI shading (Opacity, Text Color, etc.)
Timeline Playhead fades-out when editing in more situations

Text Overlay

​ art pass (anti-aliasing & drop shadows)

Transitions

​ apply audio crossfade to adhered

Video Clips

​

Delete Clip

​ now removes

Transitions

​ on both sides​ of the clip
Removed

Move Clip

​​ (to be redesigned at a later date)


---
​ ​
Released

(01-JUN-2016)​

Revamped Front-end

My Last Project
Social (Live from PlayStation,

Events

)



​​

Track 2

(Previously Commentary)

​​​

Add Track 2

Records Commentary Videos to Capture Gallery
Records Commentary Audio to a limited internal budbet (6-7hrs)​
​Can add any Capture Gallery Video Clips into ​​Track 2 timeline

​​

Edit Track 2

Edits & modifies existing Track 2 clips​
Can add Filters to Track 2 clips​
​New Swivel PIP Layout​
PIP Settings

Drop Shadow, Border, & Border Color

PIP Backdrop

​​​Apply any Capture Gallery Screenshot as a backdrop to PIP Layouts Offset & Side-by-Side



​​TRIANGLE

Chroma Key Modes

​Camera Mode (Add Track 2)

Saves preset settings for future recordings

Adjust Mode (Edit Track 2)​​

Modifies existing Track 2 clips

X ​

Recording Modes

Normal, Cutout, Green Screen, & White Screen

SQUARE

Edit​

​Pan & Zoom, Settings, Feathering, Radius (Cutout), & Tolerance (Green Screen, White Screen)​
Backdrop

Adds Screenshot as a Chroma Key Backdrop
​Add, Delete, Settings

​Camera Tuning​ (Camera Mode only)

Adjusts camera captures, records effects into Capture Gallery clips
​Contrast, Sharpness, Hue, Saturation

​​CIRCLE

Exit

(lock current Chroma Key color)



60-minute Video Export sup​port, 80-min Projects




​

Revamped Add FX UI​

​

Add Overlays

​

​​

Overlay improvements

Text Rotation
3 Categories (Stickers, Theme Stickers, Text)

​

Add Filters

​​

15 New Filters

5 Catagories (All, Photo, Game, Retro, Psychedelic)

​

Add Layouts

​

Layout Settings

(Vignettes)
​

3 New Vignettes

​3 Catagorie​s (All, Default, Vignettes)​​​​



​(Screenshot)

Settings

(alternates with

​Clip Volume

in the main Edit Menu when over adjustable Screenshots)

​SHAREfactory™ Art

(​​​​Add Screenshots)

Solid Color (w/Settings)
Gradient (w/Settings)
​Clouds (Animated, w/Settings)
Headroom (Animated)
Stars (Animated, w/Settings)
Fire (Animated, w/Settings)



2 New Music ​Tracks​​

Gone Tomorrow (Xe-NONE Remix)
Club Valkyrie


UI & UX Improvements
​

Move Clip replacement​​

Theme Transitions​​ now only auto-populate between Theme Clips​​

​

​​​​​​​​​Export to Gallery now continues​ to render while the app runs in the background​​

​

Frame Step​​

support for ​

Move Music​​

&​

Move Track 2 Clip​​

Auto-Trim for long segments now available in ​​

Add Music​​

& ​

Add Clip in Track 2​​

​

System Save Data​​

(Saves ​

Add Track 2 Green Screen & Camera Tuning presets​​

)
TRIANGLE ​

Trim​ Lock​​

(Locks the size of clip in ​Trim Screens)​​
​

Split Clip​​

does not reset SHAREfactory Art animations
​

Fade-to-Color Transitions​​

now preview settings​ correctly
​

Volume​​​​​​​

V​olume default settings are now 100% (up from 80%)
Split functions no longe​r reset Volume settings
New "

​​Apply To All​​

" Volume option, unique to each volume function (Videos, Music, Transitions, Commentary​)

​

​Sub-menus

SQUARE Select/Toggle, X Confirm​​​​

​

New Global Iconography​

"No​ Device" Icon in ​Track 2 Camera Panel

​Track 2, Volume, Export, etc.​

Graphical fix for PS4 CIRCLE, Playroom running bots Transitions
Fix Time Bender Export Freeze
Fix Snip Clip crash
Fix Selecting Time Bender speed crash
Fix Export Volume
Fix Commentary Audio dropout over Time Bender​/seeking


---
​

Released

(09-JUN-2016)
Fix for placeholder text displaying when using Arabic System Language Settings (unsupported)


---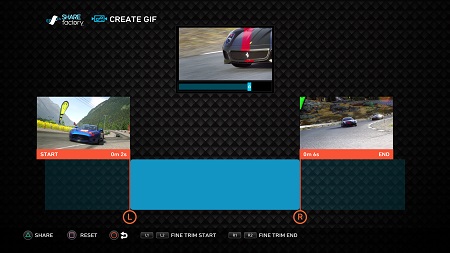 Released

(09-NOV-2016)
​

PlayStation®4 ​Pro Support

Edit & Share PS4 ​​​​​​Pro Videos & Screens​​hots

1080p, 720p & VR Video Support
4K, 1080p & VR Screenshot Support
PlayStation®Camera video locked to 720p



​Ph​oto Editor

​Create and Share Photo collages with up to 6 frames​ & 1 Background Image, Gradient or Color
Add Stickers, Text, Filters, & Vignettes​
Pan & Zoom frames
Border Spacing & Roundness

Export Settings

(PNG or JPG)
Export Photos Projects at

1080p on PS4, 4K on PS4 Pro

Photo Gallery

(review previously Exported Photo Projects)



​

GIF Maker

Create Animated GIFs from your Video Clips & Saved SHAREfactory Projects
Up to 10 seconds in length, or 5MB in size
2-frame minimum size
Share directly to Twitter

GIF Gallery

(review previously created GIFs)



Overlay UI Improvements

X to

Add Overlays

, SQUARE to

Edit Overlays

Transform Overlays

now uses ​​R-STICK to Move (previously L-STICK)
L-STICK highlights Layer panel, enters

Layer Order

mode

7 New Troll Face Stickers

New Impact Font with Black Border

(Text Ooverlays)​



Track 1 Pan & Zoom

Split Track 2 Commentary Clips

Optimized Export speed, now up to 20% faster

1080p DLC Theme support​

Export Video at 720p on PS4, 1080p on PS4 Pro

New Emboss Filter




UI & UX Improvements
Global UI Refresh (Background image, Control consistency, etc.)
Placeholder Clips are no longer added to Exported Videos
New Share Dialog for Photo Editor (Facebook, Twitter, PS Messages, Communities)
New Share Dialog for GIF Maker (Twitter)
Updated Blocked Clip behavior

Blocked Clips now displays the appropriate "blocked scene" notification when played in L2 fullscreen in-app
Blocked Clips now disables L2 Fullscreen screenshots in Projects
Projects Exported with Blocked Clips render the full project, but prevents sharing to unapproved online services appropriately
Exports include Blocked Videos in created videos, however SHARE will omit these videos from saves individually

Above blocks occurs for clip length when added to Track 2
Above blocks affect GIF shares​​

Bug fix: Fine Music Trim adjustments​
Bug fix: "No Device" graphic no longer displays in Edit Track 2 when paused
Bug fix: Overlays can now be edited on the first frame of a clip


---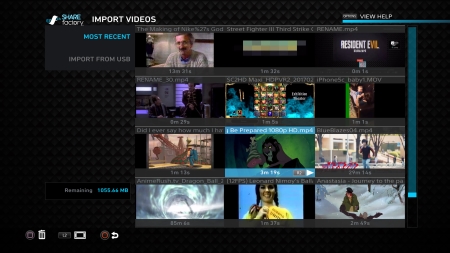 Released

(09-MAR-2017)
​

Import Content

USB Import for

Music

,

Video

&

Stickers

Updated Import and UGC budgets

500MB Music

(Imported Music)

2GB Video

(Imported Video)

32MB Images

(Imported Stickers)

128MB Projects

(400 Project limit)

+1GB Recorded Audio Commentary





Edit in SHAREfactory

(lite mode from Capture Gallery)



​Included Themes

Infomercial Theme

Updated PS4 & SHAREfactory Themes to 1080p





Overlay Updates

Scalable Text Overlays

36 Text Effects​

Glow, Stroke, Drop Shadow, Bevel, etc.

New Times Font
XX New Stickers



Photo Editor

Support for up to 16 Frames
22 New Photo Editor Collage layouts

Motivational Poster Layouts

5 New Photo Sample Projects

Clone Clip

OPTIONS View Help (Contextual to every screen)
New "Save/Export/Render Terminology for Main App/Edit in SHAREfactory modes
New Activity Feed Posts for New Video/Photo Projects ​​
Updated Photo & GIF Share Dialogs for 4.50 (Activities)


---
Released

(22-MAR-2017)
Bug Fixes

Loss of Track 2 audio after recording a second clip
"I-frame" error message for Video Import changed to "Keyframe"
SHAREfactory Art animations do not correctly update for Trimming
Infrequent "Playing Credits" crash


---
​Included Themes

Uncharted 10 Year Anniversary
Comic Book
Improved video USB import feature to support more videos
Over 20 new transitions and two new filters
Sticker & Text animations and Duration control
Attract Mode
Drop-in Camera Effects

Quake
Bounce
Heartbeat
Drift
Stomp
Focus
Pulse

Audio ducking to automatically lower Track 1 volume when Commentary is present on Track 2
Add comments to your Project files
Improved video USB import feature to support more videos, regardless of Key Frame setting
Improved load times
New Project view options including Zoom for easier editing
UX improvements


---
Released

(18-DEC-2017)
Minor Bug Fixes


DLC SHAREfactory ThemesEdit
---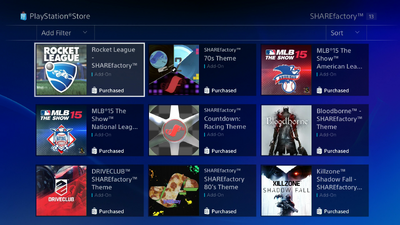 Released in Patch 1.04

(Independent releases)

SHAREfactory Themes are addons produced by independent game teams and developers that include content from their own IPs and game titles. SHAREfactory Themes can include Theme Video Clips, Screenshots, Music, Fonts, Stickers, and Cinematic Transitions that editors can use to to suppliment their video and photo projects. While most SHAREfactory Themes can be downloaded from the PlayStation®Store as addons since Patch 1.04, some Themes are included with individual patches to SHAREfactory.


SHAREfactory EventsEdit
---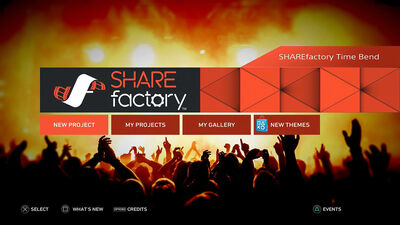 Released in Patch 1.07

(09-DEC-2015)

Event Mode allows developers to create SHAREfactory Events within the PS4 Events system, thereby auto-hashtagging a published video for online editing competitions.

Recent SHAREfactory Events:​​

SHAREfactoryBO3 Event - Call of Duty: Black Ops III - 08-APR-2016


Edit in SHAREfactoryEdit
---
Released in Patch 2.50

(+4.50 Firmware)​ (09-DEC-2016)

Edit in SHAREfactory is a system to allow users to launch a lite version of SHAREfactory directly from the Capture Gallery, edit a Video or Photo Project that is pre-populated with a default Theme, then Export their video and return to the Capture Gallery menu.
To activate,


highlight any video clip or screenshot in the Capture Gallery > Select > Edit in SHAREfactory.

You can edit up to 16 Clips or Screenshots at once when lauching from the Capture Gallery. GIFs cannot launch Edit in SHAREfactory mode.

​

NOTE:

You can start with 16 video clips, then add the full 50 once Edit in SHAREfactory mode launches.