Music Mode allows editors to add their own custom audio tracks to their SHAREfactory Projects. You can also add your own Music and Audio files into SHAREfactory via USB. Just as Track 2, Music Mode is a separate and independent timeline from the main video timeline. As such any changes on the other timelines do not affect the positioning of others. Below we'll go over the various functions and feature of Music Mode.



Adding MusicEdit
---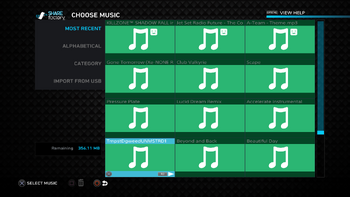 When opening Add Music, you are presented with a list of Music Tracks that are fee to use in your projects. These Music Tracks are separated into 3 categories:


Internal MusicEdit
---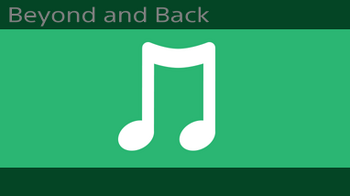 These are Music Tracks available in all SHAREfactory Projects


Theme MusicEdit
---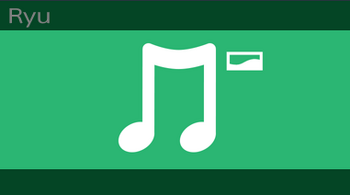 These Music Tracks are only available in DLC SHAREfactory Themes that have included Music Tracks. They are only available when using a project with the relevant theme.


Imported MusicEdit
---
You can also import your own Music and Audio files from USB into SHAREfactory to use in your projects.


More on Importing Music from USBEdit
---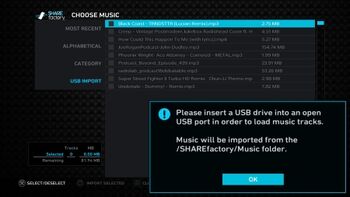 SHAREfactory's Music Import option require a specific folder structure and file system to function. As the PS4 only supports the file systems FAT32 or exFAT, drives cannot be formatted in NTFS. Also, special folders must also be created on the USB drive to hold the imported music, videos or images.

USB Format
​FAT32/exFAT are file system formats that can be set by Desktop PCs. PS4 systems can only read USB drives formatted in these file systems, and affect both the USB Music Player app and SHAREfactory™'s USB Import.

On any PC (Windows) right-click the USB Drive in My Computer
Select Format
Select FAT32/exFAT in the File System drop-down
Select Start and allow the process to complete
Create a folder called "SHAREfactory" in the root directory of the USB Drive, then inside that create folders called "Music", "Videos" and "Images". Place any desired content in each appropiate folder.


EXAMPLE: D:\SHAREfactory\Music\ *place music files here*

Your USB Drive is now ready for use


USB Music Import supports the following file formats:
​MP3, MP4, M4A, AAC, OGG, AMR, 3GP, or 3GP2

​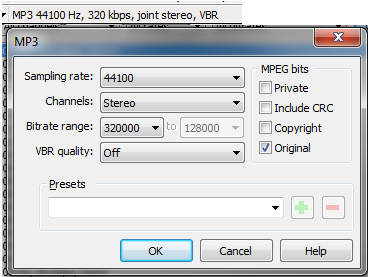 NOTE: MP3s encoded with Variable Bitrates have been known to cause issues with audio maintaining static positions in the music timeline. We recommend only using MP3s encoded with Constant Bitrates (CBR) at 320kbps. If you need to re-encode your audio files to Constant Bitrate, we recommend applications such as Audacity or Goldwave.

Additions requirements can be found in the SHAREfactory User Manual Page 69.
Edit Music FunctionsEdit
---
Once you place your Music or Audio Track into the Mosic Mode timeline, you gain the options to edit the Music Track with the

Edit Menu: