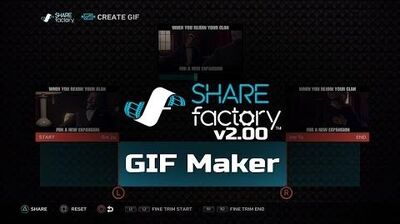 SHAREfactory™ version 2.00 introduces the ability to create Animated GIFs from your Capture Gallery Videos and your existing SHAREfactory Projects. Below you'll find of the functions and behaviors of this feature. You can also view this quick tutorial video on this mode.


Basic FunctionalityEdit
---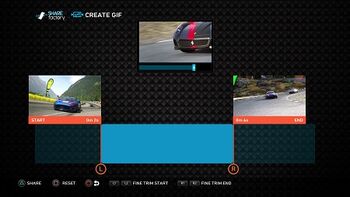 You can create an Animated GIF in 2 ways:
From Capture Gallery

creates a GIF from an existing video clip saved in your Capture Gallery.



From Project

always you to open an already existing saved video project and create GIFs from these edits.



Once in GIF Maker with either of these options, move your playhead to any point in the video or project and select

to Prepare GIF. This will open the Trim screen and create a looping animation containing the next 10 seconds of video.


The Trim screen will display a looping animation that updates based on where your Trim endpoints are set. When you are happy with how your looping animation looks, select

SHARE to export your Animated GIF to the Capture Gallery and upload online.
For upload options, editors can send their GIFs to Twitter, or to PSN Activity Feeds.



Additional Notes About Animated GIFsEdit
---
Animated GIFs also include some specific things to keep in mind.


Animated GIFs can be up to

10-seconds long or 5MB in size

.


Animated GIFs can publish only to Twitter

or PSN Activity Feeds.




Animated GIFs contain only

a single color palette

for the full animation, so quality of image may vary from GIF to GIF.



Community content is available under
CC-BY-SA
unless otherwise noted.